Growing an online presence is tough. You need to focus on creating value for your community and constantly find new ways to nurture them so that they'll stick around to continue reading your content.
All of this takes time and effort.
Now, throw in the fact that you need to stand out from everyone else using the Internet to grow their businesses, and you'll soon find there's hardly any room to do much else!
Of course, there are things you can do to help you save time, such as outsourcing the work to a professional.
But, if you are in the early stages of your business and don't really have the budget to hire someone (or if you are not afraid to get your hands dirty by taking on the extra work) you could buy templates to change up and share as needed.
Today, I'm going to focus on you! The business owner who would like to create a beautiful online presence, but is not quite ready to go the custom route.
Branding your business is no small feat, and requires a ton of work that often comes with a hefty price tag. For a small business that is just getting set up, it may not always be possible to go all out, even if that is what you'd very much like to do.
In these cases, I like to suggest focusing on very specific brand elements that they know they'll be making a lot of use of, i.e. social media and blog post graphics.
Why should you create branded graphics?
There are a number of reasons I say people should create branded social media and blog post graphics for their online businesses:
1. It's a quick and highly effective way to draw attention to your content.
While beautiful images may get people to take a quick pause, graphics share key points about your content, which increases the chances of someone clicking on your post to engage with your work.
A beautiful graphic will have the same impact as a photograph, but the big difference is that it will get people to actually read your content since they know what to expect.
In a sea of beautiful pictures, a graphic with an interesting, relatable title, is more likely to pull in readers compared to a picture that says absolutely nothing about what your content is all about.
2. Graphics is a great way to solidify your branding as a business.
Branded graphics will help you to create a cohesive look online, giving you a vital opportunity to reach your target audience.
When using branded graphics, you are building your business by establishing your brand, allowing your following to become more familiar with you.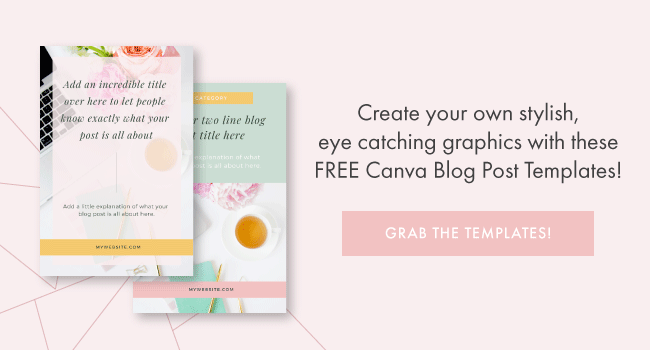 As I mentioned before, it is so important to have your business stand out online. You want to form meaningful connections with your audience and build trust within your community so that people can envision working with you.
Your social media pages and blog is a fantastic way to do this, and branded graphics will help you achieve it!
3. Using branded graphics provides you with an opportunity to get your business noticed by your target audience.
While there's a chance pretty pictures will get heads turning, branded graphics will get internet users to stop and take note of your content. And if they find your posts helpful, valuable, or insightful, your business will become visible immediately.
If you create well branded graphics with your business name or logo on them, and the content you publish gets shared by other internet users, your business will be placed in front of many different audiences, growing your reach and potential clients.
The wonderful part is that people who can relate to your content, will know who to follow or search for, because you've made it clear to them exactly who you are!
What are the 5 graphics you need for your online business?
While I'll be the first to tell you that anyone, in this day and age, who wants to be taken seriously online should definitely invest in a full business brand; I also believe that it is entirely possible to start with the very basics.
Setting the tone for your business through graphics is a must! Especially in the spaces online where you know you'll be spending a lot of time connecting with your target audience.
The top 5 online spaces I have had the most success in building connections are:
1. My email list
By now I'm sure you realize the importance of building your email list, especially if you're running a business. And the way to attract people to join your list is through freebies (i.e. opt ins, or lead magnets, or content upgrades).
Want to learn all about how to create an opt in that converts to subscribers and paying customers? Head on over to Vanessa Ryan's website for all things opt ins!
Once you've created an incredible freebie to share with your audience, you'll then need to feature it on your website or blog to get them to sign up for it.
The way to draw attention to your freebie is through opt in buttons!
By creating a simple, branded graphic that shows off your lead magnet, you'll get people clicking to subscribe much faster than an ordinary subscription box.
And the best part is that you can add it all over the place! If a graphic is informative and looks pretty, people don't mind seeing it, compared to a subscription form which can be quite annoying.
All you'll do is create a pretty graphic, and link it back to the page you want them to be directed to so that they can sign up to your list!
2. Blog post header
Of course, it goes without saying that one of the most important graphics for a new blog post is the blog header! The blog header is really important, as it will be the first thing your readers see.
In this blog post that I wrote a while ago, I share the anatomy of a blog post graphic that converts.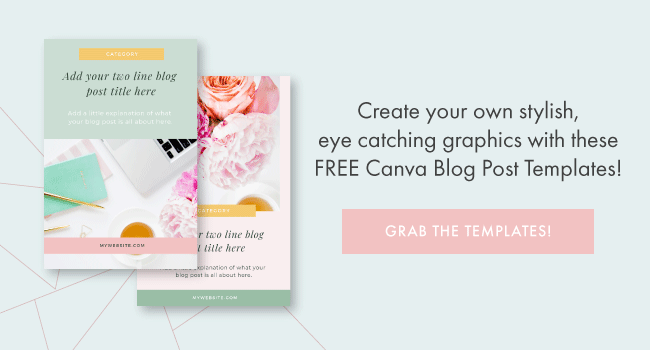 3. Pinterest
I like to recommend using a blog post header that is already optimized for Pinterest. This way, you don't need to have completely different graphics for the two.
However, to get the best reach when sharing your content, it is good practice to have 2 – 3 different graphics for Pinterest. This way, you can share the same content multiple times, changing up taglines and headings to focus on specific sections that would appeal to individual reader's needs.
Pinterest is a fantastic place to share content. It is also a great platform to get your business and brand in front of a large audience, building trust and familiarity with the people who are interested in the content you share.
4. Instagram grid
It's no secret that I am absolutely besotted with Instagram for marketing online businesses. There's no denying the power of this platform, as it allows me to really get to know my audience in an environment they feel comfortable.
While Instagram is still all about imagery, it has also morphed into a micro blog space where users share incredible information that goes far beyond pretty pictures.
Since Insta is being used to influence, educate and inspire, branded graphics is a fabulous way to get your content standing apart from everyone else.
When people scroll through their newsfeeds, it is more likely that they'll stop for a graphic that says what the post is about, compared to a picture that says absolutely nothing about the content being shared.
And if someone takes the time to dig a little further into the account that posted the content they could so easily relate to, finding a beautifully, branded profile that has an established, easy-on-the-eye look, the chances are that they would be much more keen to give you a follow or to engage with you!
5. Instagram Stories
Stories has taken the world by storm, with more and more businesses hopping on board to utilize this fantastic tool to build trust with their audiences.
While each business would choose a different approach to the way they use IG Stories, I've found that it is best to have a few graphics on hand for the days when you need something a bit more on brand.
Once you work out what sort of content you'll be sharing on Stories, you can have 4 – 5 templates that you can rinse and repeat as needed.
---
Want to cut down the amount of time you spend on your blogging process?