Seeing as it's the "month of love" and all, I thought I'd take a moment to share how I fell in love with blogging again after months of zero chemistry or commitment – yikes!
Before I begin, let me say that it's totally okay to take a break from things that are not bringing joy into your life. When it feels as though the hours are all about the hustle and bustle, our day to day lives can become tedious – monotonous. I am a firm believer that we are the designer of our own lives. So, if there's something weighing you down, take a step back. Giving yourself space and distance can be exactly what's needed for you to get back to it.
For the longest time I've been feeling as though blogging was this chore that I needed to do. It was weighing heavily on me because I wanted to create content but I was just not in the right frame of mind to write something that made me feel good sharing.
When I created this website, one of the things I was most excited about was the blog. Finally, I had a space of my very own where I could share my experiences, and hopefully pass on something that will help another.
But when I had this blank canvas full of possibilities, I became so overwhelmed by the newness of it, and as a result, I had no idea where to begin.
I'm now happy to report that I am absolutely, head over heels in love with blogging again! Yet, it's not something that happened over night.
This is by no means an insta-love story. It's just my journey of how I got my groove back with blogging, and a couple tips you could implement in your own business if you're feeling a little uninspired.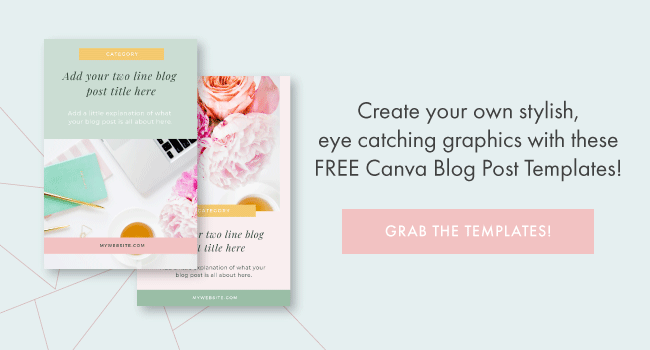 I took a step back to focus on things that brings me joy
As I mentioned above, sometimes this is exactly what the doctor ordered.
One of the best things I did for this blog was to step away when I wasn't enjoying the process. I knew from experience that forcing myself to create content when it wasn't coming naturally to me, would reflect in what I post. It's so easy to pick up if someone is not passionate about their content, and I refused to have that stain on my record here.
Instead, I chose to focus my energy and creativity in other aspects of my business. I took on new projects, worked with amazing clients, spent my nights creating digital products that I LOVED designing, and sharing content on Instagram to take some of the pressure off.
And it made all the difference!
Being able to get things done and allowing myself the time to express my creativity through different outlets meant that I could come back to blogging when I felt ready. This really lightened the load, and gave me the chance to clear my head so I can return with content that was fresh and interesting – I hope my idea of fresh and interesting is the same as yours!
I took some of the pressure off by setting up a blog strategy
With my background in structural engineering spanning all the way back to my high school days, it should come as no surprise that I do my best work when things are organized and carefully planned out.
Starting a project with a thousand loose ends is a sure way to set my anxiety levels through the roof! Which is why I always make an effort to set up a process I can stick to, so I know exactly what I need to do.
For some weird and unknown reason however, I never implemented this in my blogging. When it came to blogging, I would create content in the moment and share it when I felt it was ready to be published. A proper blog strategy was never something I paid much attention to, which is the main reason I felt so overwhelmed to start with.
Now though, I knew if I continued down that same path I was going to set myself up for failure.
Being a Mother, Wife, and Solopreneur means that I am always struggling to keep up with my to-do lists. Tasks are forever piling up instead of being crossed off, so it's important to stick to some sort of workflow to make sure I am using my time in the most effective way.
I gave attention to what I love most about blogging
Instead of thinking about blogging as this huge, daunting task that needs to be done right away, I decided to change my mindset a little. I broke up the entire blogging process and picked the two things I loved the most about it. These tasks turned out to be:
Writing content around topics I enjoyed talking about, and

Creating graphics that attracted my target audience
Once I realized this, blogging no longer seemed like a chore. This change of perspective made me fall back in love with blogging, and now I am super excited about publishing more posts. Not to mention, I don't feel as overwhelmed as I did before!
---
Want to cut down the amount of time you spend on your blogging process?