A major reason I felt overwhelmed with blogging these last few months was that I felt stressed out about the entire process. From my own experiences with blogging in the past, I knew exactly how much work goes into creating a post.
The idea of sitting down to write the content, create eye catching graphics, send out the email blasts, AND promote on social media had me breaking out in a cold sweat!
WHERE was I supposed to find the time for all of this with my Mum, Wife, Entrepreneur, and Business duties?!
It felt impossible…
Hopeless!!
As a solopreneur, we wear many different hats in the overall running of our businesses. We need to be a designer, content creator, social media manager, marketer, etc… And most times, when we are too busy straightening our other hats, we forget about a very important one: the Graphic Designer hat!
After chatting with a few of my business friends, I realized that this was one of the top reasons for them not sharing their content! They simply do not have the time to fret about graphics. Yet, they admitted to knowing the importance of it.
The result? They'd end up not publishing their content at all because without the graphics it will be nearly impossible to attract people towards it!
Since I had first hand experience with this, I came up with an idea to help online business women streamline the blogging process with, you guessed it!
TEMPLATES!!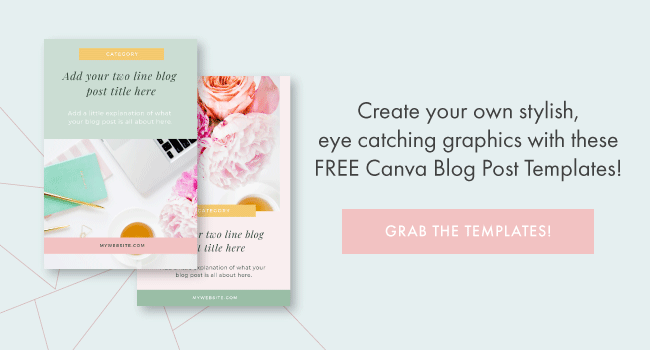 About two months ago, I suddenly felt the urgent need to create content for my blog. I wanted to share tips and advice with my audience who seems to be struggling with things I could actually help them with.
But when the time came to sit down and start, I felt overwhelmed and frazzled because I had no real strategy or plan in place.
I carved out some time before writing the content I wanted to share, and mapped out a process to follow each time I had a new post I wanted to put up on the blog. And since I knew one of the most time consuming aspects of blogging was the graphics, I thought I'd start by creating a template that I could use on repeat.
This has been such a game changer for me, and has allowed me to get my content up so much faster than before!
Now that I have a template setup for my graphics, I simply pop in the content, and I'm good to go! In no time at all, I have graphics ready for my blog that looks great and helps me to maintain my cohesive branded look online!
Simple, yet highly effective!
Want to streamline the blogging process even more? Here are a few pointers that I found extremely helpful:
Create a workflow in Asana mapping out your blog post process from start to finish
Asana has been a Godsend for me with the day-to-day running of my business!
I'm someone who needs to keep things organized – I struggle to function if I'm not following a plan. Having all the steps and tasks listed so I know what needs to be done, helps me feel less overwhelmed. When it feels like I'm drowning in work, I tend to build things up in my head because I don't have an order of what I still need to do.
Now that I have my blogging process mapped out in Asana, it has become so much easier because I can follow along and not be distracted by anything not listed in the workflow!
To map out your process, start at the very beginning, i.e. content planning, and fill in the gaps right until the very end, where you'll need to promote the post on social media.
Create templates for all the graphics you'll be needing for your post, as mentioned above
I know I have a tendency to carry on and on about templates, but I promise you it's not without reason!
Templates will cut out so much time in the blogging process, and it's one less thing you have to worry about when you are trying to maintain a cohesive look for your online business.
Sticking to a colour palette, fonts, and layout, while having a few stock photos you can use on repeat will make it so easy to create the graphics you need to get your content out there for the world to see – and share!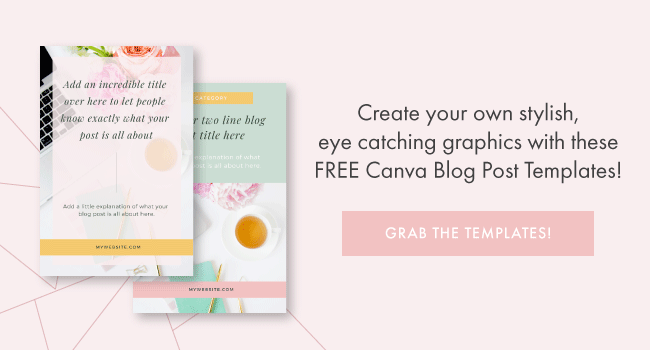 Create a blog post bank to add content ideas to so you never run out of things to post
This is something I've been doing for my Instagram profiles for years, yet never thought of implementing it as part of my blogging process.
Since keeping a blog post bank, I am constantly adding new ideas for possible posts! It seems as though the more ideas I have popping in my head, the more ideas my brain generates!
Keeping a blog post bank means less stress when I want to create content to post. All I need to do is pick a topic and run with it!
When in doubt, keep it simple
I think this is probably the most important thing to keep in mind when you're feeling stressed out about blogging.
Being an online business owner means that it is so easy to fall into the trap of looking at what everyone else is doing, feeling as though I need to 'keep up' with them. There's no quicker way to let the self doubt creep in!
When ever I feel overwhelmed because of this, I will take a moment to clear my mind and focus on what I want to do. I'll then work on getting the content created in the most simple of ways, before trying to pull out all the stops.
Creating while you're in a stressful mental space, looking at what everyone else is doing, means that you run the risk of being influenced by someone else. You can become so absorbed by doing it their way that you forget to follow your own intuition and style.
Rather take a step back to regroup. Shed all the extras and get back to the basics so you can build a piece of content that's reflects you and not someone else!
---
Create branded graphics for your blog, in no time at all!