The internet is a vast, global network of information for just about anything we can ever imagine.
Forgot how to spell something? Google it!
Have a question that you're too embarrassed to ask out loud? Google it!!
Have a weird looking mole that popped up out of no where? Google it!!!
Relieved to discover it's actually a smudge of chocolate from your secret stash of decadent goodies? Googl… Oh, wait, that's a relief!! Hop on Google to stock up 😛
My point is, content is everything online. If you are offering value through the information you put up on your blog, chances are you're doing really well.
Unless your blog post graphics are lacking in the looks department.
Because let's face it – internet users are drawn to beautiful, high quality images. And if you are business blogging in this day and age, there's simply no excuse for poorly designed graphics on your online spaces.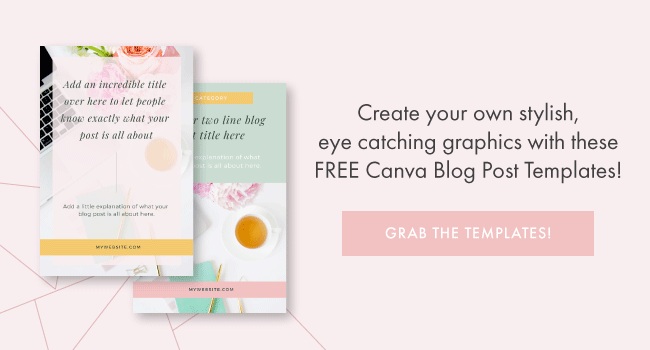 Bad graphics and poor picture quality shows a lack of effort. It tells me you don't think much of your audience and you have very little confidence in the content you're sharing online. I can even go so far in saying that it tells me you're lazy. Good imagery is not that hard to come buy – we live in the digital age where pretty much everything is accessible at the tip of our fingers! And if you're running an online business, you should know by now that first impressions holds a lot of weight. There's no room for slackers…
However, I do understand that not everyone has the design skill to create graphics on their own. And if you're reading this then you're probably in need of a little help. I'm proud of you, fellow boss babe! You are looking to grow in your business and that is something I R.E.S.P.E.C.T.
So today I'm going to share the most important elements of a blog post image that gets you shares, likes, and most importantly – it get's your audience reading your content so that you can build trust, and turn them into paying customers or clients!
An enticing title
The most important aspect of your blog graphic is the title. This is what will either attract readers to your post, or turn them away. You want your title to be catchy and enticing, but you also want it to tell them exactly what they can expect from your post. It needs to be short, sweet, and irresistible. This is the first taste of information about your post that people will see – you need to make it good!
An informative hook
The hook, or subtitle is the section where you get to elaborate a bit more on what your blog post is about. Use this section wisely! In shorthand, share the main focus of your post and lure them in with a call to action, if there is one you'd like them to take. Take advantage of this section and describe your blog post to get people interested in your content.
Add the category
Many people neglect adding a category to their blog graphics and this is a mistake. If your blog graphic is missing a category section, then you are losing out on a great opportunity to show your target audience the kind of content you're sharing on your space. In just one word, you can make it known what topics you are likely to post about, possibly attracting readers to not just this one post, but to the rest of the content you already have on your blog! Simple, yet super smart, right?
Your Business Branding
It is absolutely essential that your blog post graphic fits in with the rest of your branding. Sticking to your colour palette, brand photography, font styles, word choice, and any other brand elements you use will help you create a cohesive online look. This will also help you establish familiarity with your audience and anyone new finding themselves on your blog. An easy way to stay on top of your branding is making use of a brand board! Keep all your brand elements in one place so that you never move astray.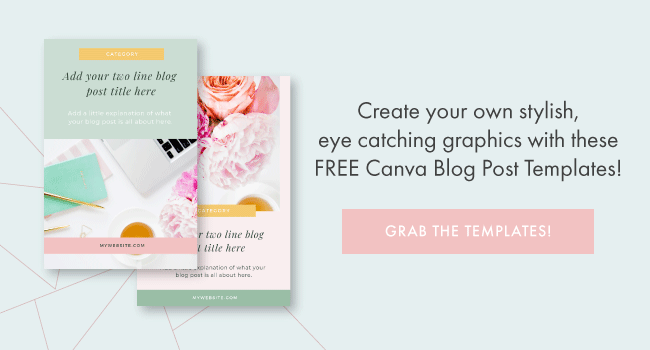 Add your website or business name
Say your blog image is floating around in the sea of graphics on Pinterest, and someone happens upon it – how would they know where it came from if your website or business name is not clearly visible on it? Simply adding your website URL to the footer of the graphic will help you be recognized, and it will get your business name out there for people to become familiar with.
A COUPLE THINGS TO KEEP IN MIND:
If you have a script font as part of your branding, try to use it sparingly to highlight certain words. Do not attempt to use a script font as the main font for your graphic, as it can be difficult to read. You want to use a font that is clear, and easy to interpret when reading at a fast pace, otherwise your content will be lost between the couch cushions of the internet!

If you are using photographs in your graphics, try adding an overlay so that your title is still clear to anyone who reads it. The important thing to remember is that your content is what you are promoting, not the graphic – the graphic is simply a tool to get your content noticed!

When in doubt, less is always more! If you are attempting to DIY your blog graphics and are new to it all, my best piece of advice I can offer you is to keep it simple. Stick with 1 – 2 colours that are complimentary, chose a simple font and let there be lots of white space.

In the case where you are offering an opt in, or content upgrade with your blog post, it's a good idea to add an image of the offer in your graphic to entice people to read your post. The opt in could very well be something that attracts people to your post, and you want it to be clearly visible so they'll be more tempted to subscribe to your mailing list!
---